Panch Tulsi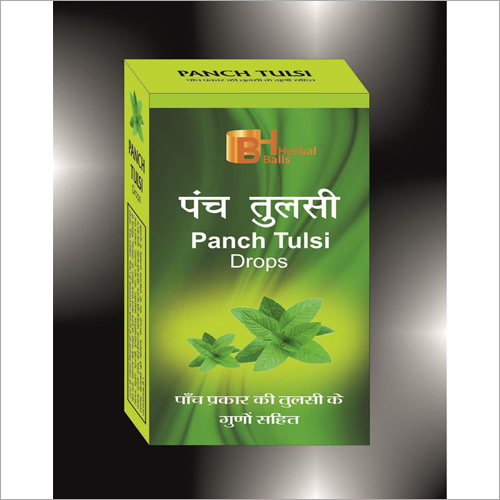 Panch Tulsi
Product Description
Panch Tulsi
Panch Tulsi :
Tulsi is a sacred plant in Hindu belief. Tulsi has been used for thousands of years in Ayurveda for its diverse healing properties. Tulsi is highly flavored, bitter, light, dry, and has a heating quality. It reduces stress, regulates cholesterol, protect against radiation, reduces temperature in fever, decreases inflammation, restrains gastric ulcers and enhances body stamina.
It is an elixir for cough; the leaves when chewed after meals acts as a digestive, and when taken before and after cold water bath controls temperature in the stomach and prevents cold. If sprinkled over cooked food in stored water, Tulsi leaves prevent bacterial growth.
Tulsi Drops are useful as water purifier, Anti-bacterial, Anti-microbial, Anti-infective, Powerful Antioxidant, immuno-modulato, Anti-viral, Anti-cough, Cold &Allergies etc. and useful in treats fungal infections E1 combats the harmful effects from pollution in air or water.
It is an excellent source of Energy, Protein, Carbohydrates, Dietary Fiber & good source of Niacin, Riboflavin & Vitamin E. In addition Tulsi Drops is a good source of Thiamin, Vitamin A, Vitamin C and Vitamin K
Cures fever & common cold : The extract of Tulsi leaves is specific remedy for malaria and dengue fever. It effectively brings down the temperature. This remedy is especially good for children.
Protects the heart : Tulsi has a powerful anti-oxidant component called Eugenol. This compound helps protect the heart by keeping ones blood pressure under control and lowering his/her cholesterol levels.
Keeps your skin and hair healthy and glowing : The drops of Tulsi is beneficial in the treatment of ringworm, leucoderma and other skin diseases. it purifies the blood giving the skin a beautiful glow, and prevents the appearance of acne and blemishes. It helps in reducing itchiness of the scalp and helps to reduce hair fall.
Dissolves Kidney Stone : Tulsi helps reduce the uric acid levels in the blood (one of the main reasons for kidney stones is the presence of excess uric acid in the blood). Tulsi leaves have strengthening effect on the renal pelvic stone.
Beats diabetes : This helps increase sensitivity to insulin. Lowering ones blood sugar and treating diabetes effectively. An added advantage is that the antioxidants present in the leaves help beat the ill effects of oxidative stress.
Helps to quit smoking : Tulsi is known to have very strong anti- stress compounds and is great to help one quit smoking. It helps by lowering the stress that may be involved in trying to quit smoking, or stress that leads to the urge to smoke.
Heals respiratory conditions : Tulsi has immunomodulatory (helps to modulate the immune system) that makes a great relief for coughs, cold, and other respiratory disorders including chronic and acute bronchitis.
Anti Allergy : Tulsi has a lot of benefits. It has super natural health curing qualities and helpful in all types of Allergies.
Keeps away from diseases : It is useful in more than 200 diseases like flu, swine flu, dengue , joint pain, stone, blood pressure excess weight, sugar, allergy.
Purifies blood : It removes the impurities of blood and increases the immunity of human body. It has Anti- Bacterial and Anti- Viral Action.
Beats cancer : With strong anti-oxidant and anti-carcinogenic properties Tulsi has been found to help stop the progression of cancer.
CONSUMPTION GUIDELINES
Dosage:
Standard dosage is 4 drops in a day. (2 drops in morning and 2 drops in evening).
2 drops in one glass of water
5 drops in one liter of water
2 drops in a cup of tea
20 drops in RO water purifier.