Kumkumadi Oil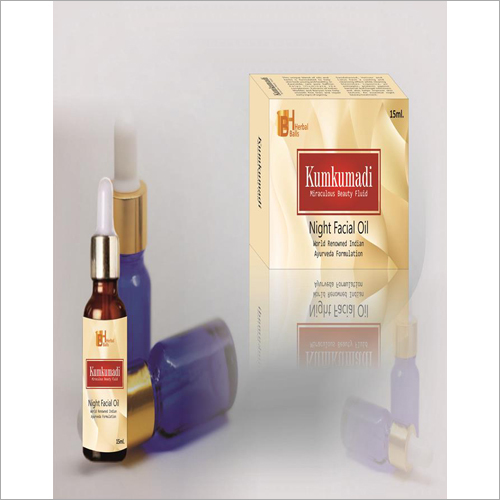 Kumkumadi Oil
Price And Quantity
Piece/Pieces

300.00 - 999.00 INR
Product Specifications
Herbal Product

Facial Oil
Product Description
Kumkumadi Oil
Miraculous Beauty Fluid Night Facial Oil World Renowned Indian Ayurveda Formulation
Kumkumadi is a unique blend of oils and herbs is formulated to help skin look young and healthy. In Ayurveda, rare pure Saffron helps illuminate the complexion. Extracts of Indian Madder and Banyan tree help smooth fine lines and repair early signs of ageing. Sandalwood, Vetiver and lotus have a cooling and cleansing effect while clearing blemishes. Liquorice, an antiseptic, protects against bacterial & fungal infections and also helps improve skin texture. An essential night beauty treatment.
Kumkumadi key Ingredients:
Manjistha
Saffron
Sandalwood
Mulaithi
Base : Olive oil
Manjistha : Manjistha is a potent antioxidant, antiinflammatory and antimicrobial. It has been used as a muscle relaxant to ease stress, anxiety and depression heal bruises and reduce arthritic pain and swelling and relieve digestive issues, allergies and skinrelated issues, such as acne.
Saffron : Saffron benefits skin because it contains many vitamins and antioxidants that are beneficial to the skin. It is antiinflammatory and soothes skin. It is antifungal and can be used to treat acne, also known to lighten skin. Saffron is also used as an ingredient in many beauty products.
Sandalwood : Sandalwood is a class of woods from trees in the genus Santalum. Sandalwood oil is extracted from the woods for use. Sandalwood oil has a warm, woody odor and is commonly used as a fragrance in incense, cosmetics, perfumes, and soaps. In India, the essential oil, emulsion, or paste of
sandalwood is used in the treatment of inflammatory and eruptive skin diseases.
Mulaithi : Mulaithi or licorice is an antiinflammatory herb and can be used on the skin to reduce the inflammation from acne, eczema and skin rashes. It does not has any side effects, and is a very good product for skin, regulating blood pressure, sore throat, etc..
Olive oil : Olive oil to keep a healthy skin is by using it like a facial oil. It is also hypoallergenic so it is safe to use even on sensitive skin. Olive oil itself also provides antioxidants such as vitamin A, vitamin E, phytosterols, avenasterol, and polyphenols. These antioxidants work well in neutralizing free radicals that are created by harmful factors such as radiation, pollution, cigarette smoke, and alcohol.
They are helpful in repairing damaged skin enabling the skin to bring back its natural glow and healthy state. It is also recommended to damp the skin with a little olive oil after exposure to the sun to reduce skin damage.
BENEFITS OF KUMKUMADI
Brightens Dull Skin
Repairs Pigmentation
Minimizes Fine Lines and Signs of Aging
Relieves Dark Circles
Contact Us
House No. 1/71, Housing Board Colony, Pratap Nagar,, Udaipur, Rajasthan, 313001, India
Phone :+918035063112